Topographic Surveys determine the elevation and location of natural and man-made surface features and existing site conditions including:
Ground elevations
Drainage features | Detention facilities
Concrete and paved areas
Hills and ravines
Buildings
Roadways and walks
Trees
Utilities
Wetlands/Waterways
Topographic surveys can be performed in conjunction with Boundary or ALTA/NSPS Land Title Surveys and can show property lines and recorded easements if required.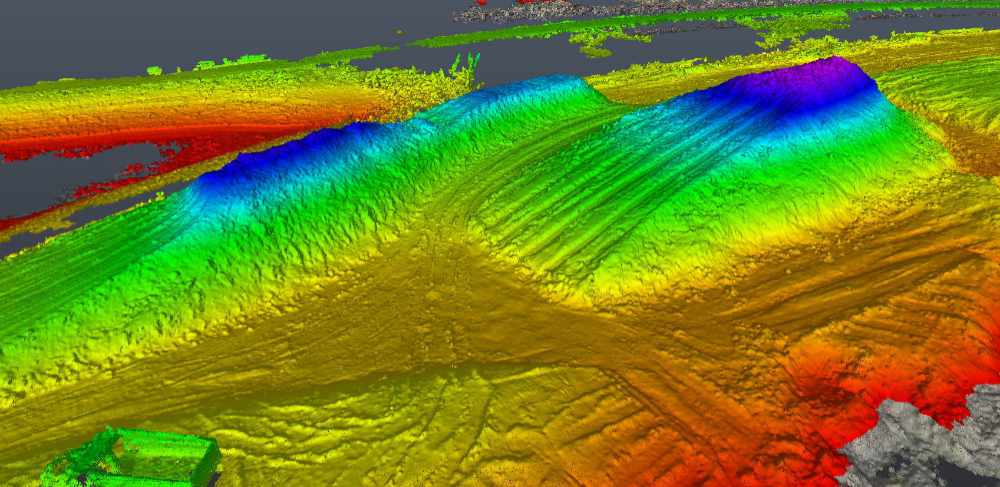 Color Elevation Map
Why Are Topographic Surveys Needed?
Topographic Surveys are necessary to:
Show the existing overall drainage pattern
Study areas prone to flooding
Determine the location of flood plains
Provide an accurate "existing conditions" survey of elevations and surfaces for site design and roadway plans
Verify manhole RIM elevations during construction
Provide final as-built data to verify that the site was built in substantial conformance with proposed plans
Verify ADA compliance
Our topographic surveys include existing ground elevations and contour lines, the location and elevation of existing utilities, and existing stormwater features, which are critical for the planning and design phases of land development, roadway and infrastructure projects.
Point Cloud of Stockpile
When Are Topographic Surveys Needed?
Compass's professional land surveyors can provide a full range of topography and mapping services for various stages of land development, construction and infrastructure projects including:
Benchmarks and elevations
Cross-sections
Earthwork quantities
Floodplain mapping
We can provide you with a lump-sum fee or "not to exceed" budget for your project.
To further discuss the land survey service your project needs, contact us at (630) 820-9100 today to speak with a Compass professional.